Last we left off prior to the birth of my daughter: Mona. She has arrived. Each sight of this cartoonish miniature of her parents leaves us in a deeper state of enamor. The child could not get any cuter. As luck would have it, she is an easy baby as well. Quickly taking to sleep through most of the evening and never whining or complaining. It is like the math of both of us parents worked out well: calm + calm= calm.
When she smiles, all is right with the world. And now into the 11th week she smiles and giggles aplenty. I am back to working long hours and when I get home and begin rattling off my baby talk she gives that toothless smile with squinted eyes. Be still my beating heart. Never had I known this type of love in my life.
Luckily with my schedule and my wife's we do not have to take our little girl to some sort of a sitter service or day care. The last thing I would want is this little gem receiving anything but the best of care.
Some pictures are in order.
This is fresh from the oven. She was delivered via C-section a few says after the anticipated birth date. Looking at her now, she was so skinny then. 7 lbs and 20".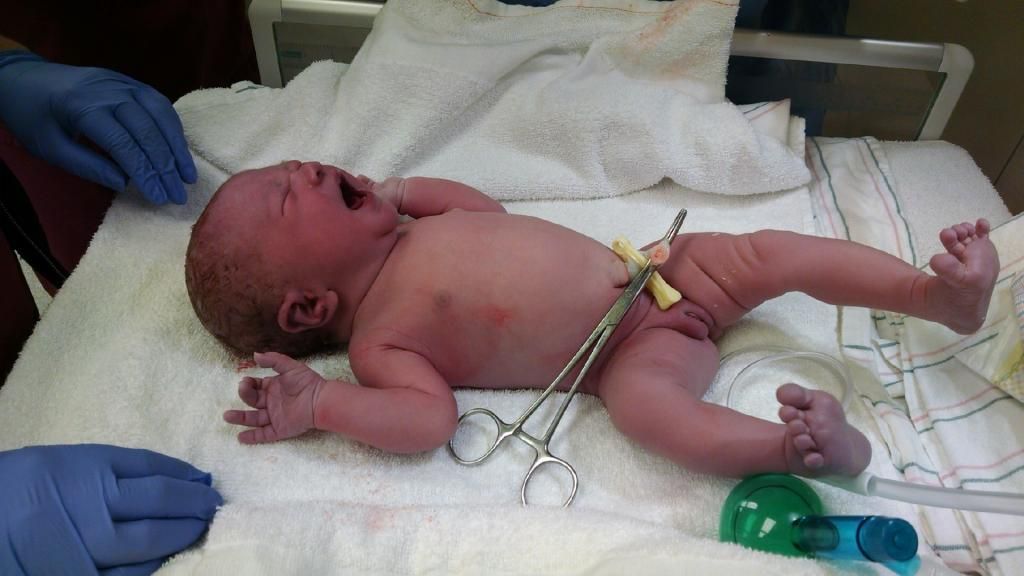 I had to learn baby maintenance first while the wife enjoyed the medications which kept her comfortable from surgery. The lack of sleep was very difficult while staying in the hospital. I manned the bottles and diapers and time went so slow as I counted Mona's breaths it seemed.
Her cries were so cute as her lungs had yet to have the strength to give her wailing power. I still find her cries and coughs cute as they are so subdued compared to my own power. Yet somehow she packs flatulence like a 50 year old lactose intolerant man after drinking a gallon of 2%. That is always good for a chuckle.
I have a curse or gift of hypersensitivity with all of my senses except for smell. My sleep is usually deep and difficult to awaken from. This little girl so much as makes a peep and it is like a Marine Corps sergeant is shouting over me at 4:00am to get my ass out of bed. I spring up instantly. Faster than Mom does, even!
For the first few weeks I would have dreams that she was sleeping in the bed with me, that my head was laying on her, swaddled in a blanket. It would start a state of panic with me searching for her in the bed only to find my head resting on the pillow. Very bizarre.
Later on I would let her sleep in the bed with me. She sleeps very well there but I only do so for naps on occasion.
It feels as if she has been with us for decades already. We have been to the doctor for her check ups and immunizations twice now and she is gaining weight appropriately and getting taller faster than normal. In 10 weeks she has gained 6.5 lbs and grew 4.5". She is truly a happy baby.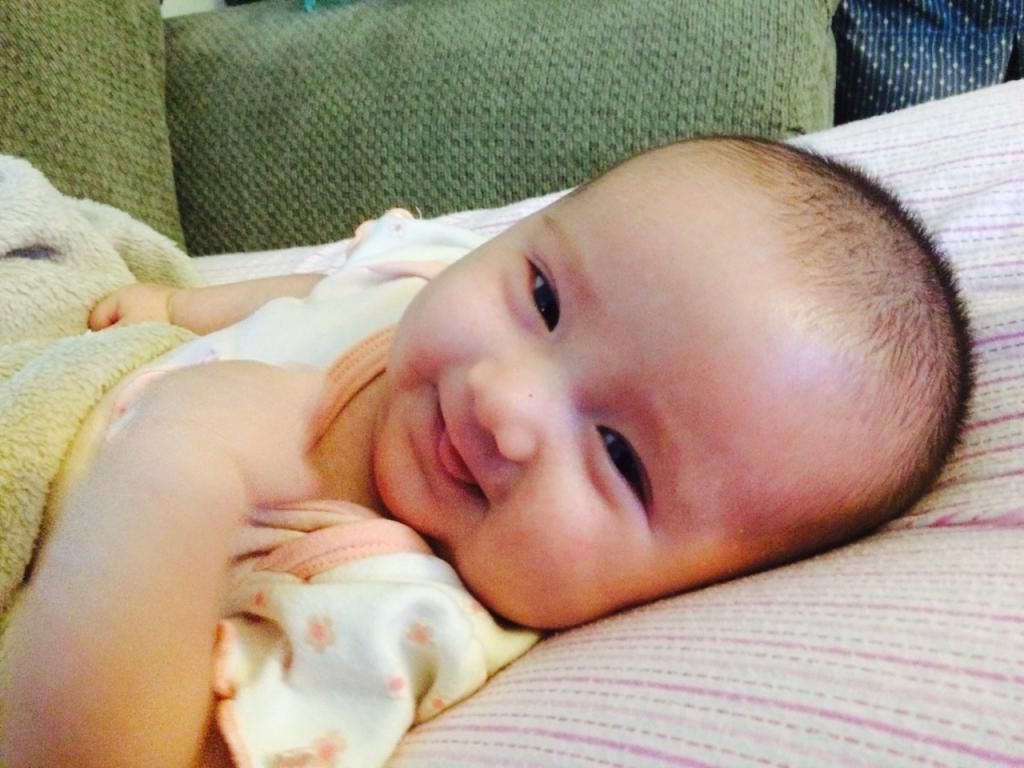 Mom does not like having her pictures shown off so I will leave her out of the entry.
Here Mona is having a laugh at daddy.
When people see her when we are out and about they gush at the cuteness. I can't fault them. For the first month and a half since she has arrived my voice has been like a broken record to the sound of, "I can't believe how cute she is!" I must have said it a few thousand times already.
So far she has had no problems and is as happy as a clam so we could not ask for more.
Outside of the new life as a parent, things are going well on the job front. After the baby was born I went back to work and am in the process of opening my own business. It will sort of be like being a parent of a business as well. No other plans to talk about details as competition is ruthless and will try to shut me down. It happened to a company I worked for years ago in the same industry.
Things have changed for the better since the arrival of our little treasure. She has added a new found meaning to my life and no longer are decisions made on my behalf but on behalf of my daughter. It took me a long time to find her mother and thanks to her our efforts have resulted in a blessing.
Until next time we see you, whenever that may be...